BLAC uniform consists of a light blue and maroon T-shirt/Polo shirt with the Centre Logo on the back, worn with blue or maroon shorts, skirts etc. Crop tops for girls and singlets are also available.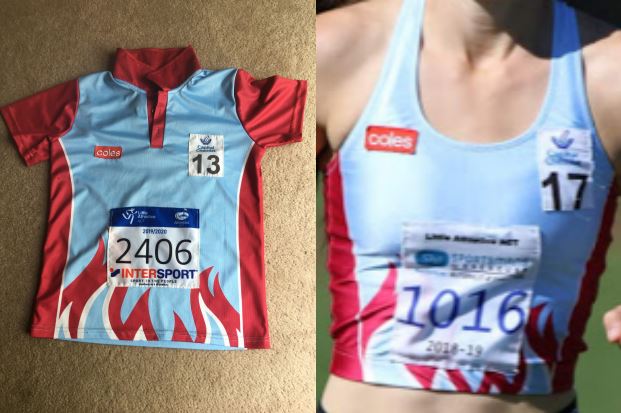 Polo shirts ($45) and crop tops ($32) can be purchased from the club. The club has a very small number of new maroon shorts, in limited sizes that can be purchased for $10. Shorts and bike shorts can also be purchased from sports clothing stores (note: maroon shorts / skirts are not
required at club meets, but should be worn at Little Athletics ACT carnivals).
The athlete's registration number and age patch must be attached. These patches are silk screened and should be ironed to fix the colours before being sewn on to the front of the uniform. It is suggested that the registration number only be sewn fully on the 2 sides and
bottom or it is also possible to use iron on hemming tape to attach these patches. This makes removal easier for subsequent seasons when age and registration numbers are reallocated.
A Coles sponsorship patch must also be attached to recognise the major sponsor of Little Athletics.
The correct Centre uniform must be worn whenever an athlete is representing BLAC at meets involving other centres. Athletes will not be allowed to compete in events run by LAACT without their correct uniform, age patch, registration number and major sponsor Coles patch.